Comparison in facts & figures
One difficulty in comparing the facts and figures is that so much has been written about them, making constant reference to a wide range of studies. The image below shows a comparison of the production of plastic and paper bags in figures.

As shown, both production processes use water. For the production of a thousand plastic bags this is 220 litres, while for the same number of paper bags as much as 3800 litres of water is needed! In terms of energy consumption and greenhouse gas emissions during production, too, the plastic bag comes out best in the comparison(1).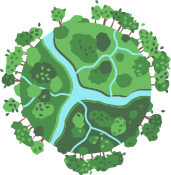 Quantity of trees
In order to replace all the plastic bags in circulation in the European Union with paper bags in one year, an additional 2.2 million trees would need to be felled, or 110 km2 of forest. If we use sustainable wood (from a forest where every year five percent of mature trees are felled and new ones planted), we would need an area almost as large as the Grand Duchy of Luxembourg(2), plus another 156 billion litres of water every year. That is equivalent to 60,000 Olympic swimming pools(3).

Environmental impact
In 2005, the international retail chain Carrefour Group(4) conducted research into the environmental impact of plastic and paper bags. Their conclusion was that plastic bags are generally more environmentally friendly than paper bags and that the longer they are in use, the greater the benefits.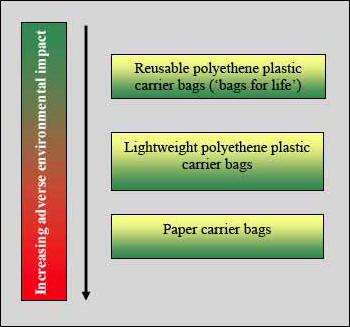 Summary of the environmental impacts of different carrier bags from the Carrefour LCA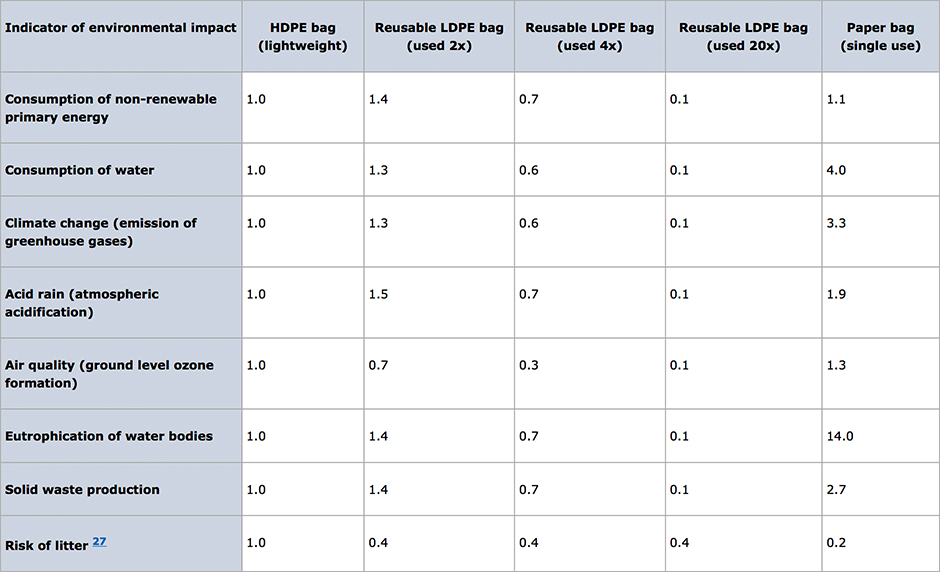 Environmental impacts of different types of carrier bag relative to a lightweight plastic carrier bag

Waste processing
Recycling paper and plastic bags is difficult. Waste paper is turned back into pulp, and these pulp fibres are bleached and separated with the help of numerous chemicals. The fibres are then cleaned and checked for contaminants. After this they are washed, pressed and again rolled to become paper. In Europe today, 70% of all paper is successfully recycled, thanks to efforts at the municipal level. More than 60 million tonnes of waste paper are collected each year in Europe(5). Plastic is recycled by melting and forming. Because the quality decreases slightly, it is often reused in less functional forms. In Europe, plastic recycling is on the increase, thanks in part to stricter waste directives and the EU's targets. Although the recycling of a kilo of plastic requires 91 percent less energy than a kilo of paper, we have to keep promoting and improving recycling. By using bags more often, valuable raw materials are preserved. If all European countries, especially consumers, assume their responsibilities and increase their recycling efforts, the vast majority of plastics can be reused efficiently.
Sources
(1) https://www.plasticseurope.org/en/resources/publications/420-denkstatt-plastics-contribution-climate-protection-summary
(2) https://www.plasticseurope.org/application/files/9015/1310/4686/september-2010-the-impact-of-plastic.pdf
(3) https://plastics.americanchemistry.com/Life-Cycle-Assessment-for-Three-Types-of-Grocery-Bags.pdf
(4) https://www2.gov.scot/Publications/2005/08/1993154/32004
(5) http://www.paperforrecycling.eu/the-recycling-process/